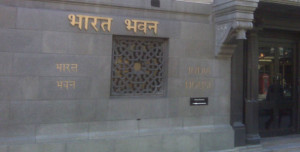 This is the story of my horrible experience with Indian High commission in London. I have prompted myself to write this blog due to an online petition on www.change.org  started by Arun Asokan from London. The title of this petition is "Stop treating Indians like Garbage". Before I move on to my story I should say that I am 1 of the luckiest ones when I compare myself to the other horror stories we hear about Indian high commission London.
This happened in 2012 and I still have all the email conversations to support my blog. It all started with me applying for an OCI status on my British Passport. The information on the website was pretty lame and unclear but I did fill in all the paperwork and sent my application form and other documents required to the Indian High Commission. It is supposed to be a 2 stage process where you send your application form and some documents in the 1st stage and then when you have been awarded the OCI status you send your British passport to affix the visa in the 2nd stage.
1St Stage process or nightmare
Unfortunately this was not clear in the website and it's a shame for a country which is the resource for the best IT professionals in the world to have such an ordinary website. I sent my British Passport along with the application form in the 1st stage process by mistake. I had also sent a self-addressed postage paid special delivery return envelope along with this. Ideally they should have automatically returned my passport (in the special delivery envelope provided) saying it was not required at this stage. I actually found out through my friends that I had made a mistake and thought they would send me the passport back. But this is Indian High commission for god sake, this doesn't happen here. I waited for a couple of weeks to see if the passport comes back. It never turned up and for the next 2 weeks I called the high commission atleast 200 times at different times of the day but the calls were never answered. I had emailed the relevant department a few times, again with no response. I was left with no choice other than emailing the same complaint to every single email address (even those not relevant to my query) available on the High commission website. To my surprise there was a response from somebody within an hour. The email ended up with somebody called "minister coordination" and this person emailed it to the relevant person and asked them to respond and copy it to him. Eventually after a few emails my passport was sent back to me. Success!!! Got to hold your breath for what's coming next.
2nd stage process, reliving the nightmare again
6 weeks later the OCI card and visa had been confirmed and I had to send the British passport for the 2nd stage process which I did. It usually takes 2 days to a week for the passport to come back as they just have to stick the issued visa in the passport and send it back to me. It was more than 2 weeks again and I had not received my passport. I did the same thing again, wrote emails to the relevant email address and called the relevant department with no response. Then I did the same thing again emailing everybody in the high commission and again the minister for coordination asked the relevant department to respond. The person responded saying that they haven't received my passport although I have a signed proof from Royal mail that the high commission has received my post. So after a few frustrating emails and a plea request to speak to someone, a guy form the embassy called me and said that they did not receive any mail and I should contact Royal mail regarding this. He also advised me to cancel my British passport because of concerns of identity theft. Obviously Royal mail was going to say that we have a proof of delivery with as signature and they won't be able to help me. I did raise a complaint with royal mail but I did not cancel my passport in the faint hope that it's still there somewhere and I was right.
A week later I had a surprise mail from the Indian High commission with my passport and my OCI card. I was obviously delighted but at the same time angry and frustrated about the service. Eventually I queried this mystery and as usual after a few emails I managed to speak to the same guy who basically had no clue about this and from what I gather from him nobody in the office knows when the passport came, where it was for 3 weeks and when and who sent it back.
Although my story had a happy ending it could have been an expensive deal for me.
1. If I had cancelled my passport I would have had to reapply for a British passport which would have cost 85£ and a day off.
2. I had to reapply for the OCI card with the new British passport which would cost roughly 300£
3. I had booked my tickets to go to India hoping that I would have had my OCI card by then. I would have had to cancel my tickets and that would have cost me 1500£.
Lessons to Learn
Good job that I did not cancel my passport. What surprised me in this whole episode was the complete lack of duty of care and commitment from the Indian High commission. There is not even a complaints procedure but I still wrote a complaint to that poor minister coordination with no response. This happens in India all the time I guess that 1 should atleast learn from the country they are living in.
The Home office UK is the government department for immigration, counter terrorism, police, drugs policy and related research and services. This website is clearly labelled out with links to the UKBA website which deals with visa applications and their processing. There is a contact number on the UKBA website to answer people's queries. If you are not satisfied with their service then you can follow a complaints procedure and make your complaint and if they don't comply with that you can take your complaint to a tribunal. I guess this website was probably designed by an Indian IT guy or an Indian IT company. That would be a fitting irony.
Shame on the Indian High commission- London, learn and change.